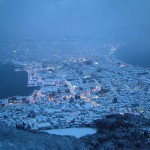 Hakodate City is located near the southern tip of the island of Hokkaido across the Tsugaru Strait from the main island of Honshu. The name of the city originated during the Muromachi era (1392-1573), when Hakodate was the home of the yashiki (a feudal mansion) of the Kono clan. Due to the cold winters, the mansion was shaped like a box (hako) and so the name of the locality became "Hakodate" (the box mansion).
During the Edo period, Hakodate was primarily a small fishing village, and the largest Japanese settlement on the island (then called Ezo) was the feudal domain centered on the town of Matsumae. In 1853, the isolated residents of Hakodate received a shock when 5 American warships under the command of Commodore Matthew Perry entered the bay, as part of a US mission to forcibly open up Japan. Hakodate, along with other (at that time) relatively isolated ports such as Nagasaki, Kobe, Yokohama and Niigata were to become treaty ports in 1858 as part of cautious moves by the Tokugawa Shogunate to reverse the policy of isolation. The arrival of trade and inbound investment led to a boom. Hakodate soon became the largest city north of Tokyo with a prosperous whaling industry and fishery, however unlike Kobe and Yokohama and regional cities such as Nagoya etc, Hakodate did not develop much in the way of manufacturing and soon declined in relative importance. Now with 290,000 people, it is Hokkaido's third largest city with tourism now one of the most important industries.
On July 14th/15th 1945, the bombing raid on the rail/ferry link targeted the shipyard and station, and destroyed around 400 houses, mostly in the western part of the town. Detailed information is available in the Hakodate Seikan-Renrakusen Memorial Hall "Mashu Maru".
As one of Japan's first cities to be opened to trade with the West in 1854 after the era of isolation, Hakodate's development also experienced a degree of foreign influence. With a port with easy access to both the Pacific Ocean and Sea of Japan and a region blessed with very fertile ground, Hakodate's popular morning market continually offers a rich variety of seafood and agricultural products.
Many of the city's attractions can be reached by using the trams (streetcars), which were introduced in 1913. These attractions include the Morning Market, Mount Hakodate, Goryokaku Fort, Kanemori Red Brick Warehouses, Motomachi District, Old British Consulate, Old Russian Consulate, Russian Orthodox Church, Trappistine Convent, and Yunokawa Onsen.