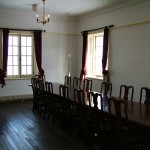 The first British consul, a man named Hordison, came to Hakodate in 1859 and established the first consulate from a room he rented from the Shomyoji Temple. After the consulate moved to the present location, it was burned by fire in 1907. The current building was rebuild in 1913. The consulate closed in 1934 but the building was appointed a Municipal Tangible Cultural Property in 1979.
The former Consulate has numerous displays of references regarding Hakodate during its port opening and historic exchanges with countries overseas including England. The miniature replica of the "black ships" (Admiral Perry's Expedition Ships) are a popular photographic subject but the Open Port Memorial Hall (1st floor) is the only place where visitors are allowed to take pictures. Its a bit similar in a way to the shiryokan in Shimoda at the bottom of the Izu Peninsula. The furniture and many other items from the time of opening the Hakodate port are also displayed. Light meals or snacks can be enjoyed at the tea restaurant "Victorian Rose," and shopping can be done at the "memorial shop" called "Queen's Memory" where all items are of important from Britain.
About a 7 minute walk on the Motoizaka-slope from the Suehiro-cho Streetcar Stop (look for the British flag). Admission: Adults 300 yen / Open everyday 9 a.m. – 7 p.m. (closes at 5 p.m. November – March).