Otaru is a port town of about 145,000 people in western Hokkaido located on the northern tip of the Shiribeshi district of Hokkaido on the Sea of Japan side of the island, facing Ishikari-wan Bay. This city was formerly called Otarunai (meaning "River of Sands" in Ainu) and was later renamed to Otaru (meaning "small barrel" in Japanese). A fishing village was established here during the Tokugawa period as an outpost of the Wajinchi district administered from the castletown of Matsumae. It is surrounded on three sides by mountains, while the fourth faces Ishikari Bay.
Otaru prospered as an economic hub and herring port in the late 19th century, and is relatively close to Sapporo, the capital of Hokkaido. It is easily accessed by train, and has become something of a playground for Sapporoans. The coastal area is part of the Niseko-Shakotan-Otaru-Beach Quasi-National Park and areas such as the Otamoi Cliffs attract many tourists due to the beautiful scenery. The nearby hot springs such as Asarigawa onsen and ski & snowboard resorts such as Sapporo Teine, Snowcruise Onze and others are amongst the closest to Sapporo.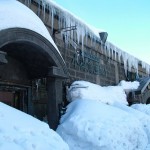 The snowfields are favored by Sapporoans due to the deep snow cover and late night skiing. Snowcruise Onze is particularly popular because the night scenery from the top of the mountain includes broad sweeping views of the lights of Sapporo. Enjoy the views then snowboard down. If you are planning to ski in Niseko and are driving, Otaru is a useful stop if you head to the Niseko area via route 5 or 393.
The average winter temperature in Otaru is warmer than in the inland areas of Hokkaido. The difference in temperatures is rather small. Cool breezes come from off the sea in summer, and powder snow makes for ideal skiing in the nearby resorts in winter. A large variety of fresh, high quality seafood is available in Otaru. Sushi bars and local restaurants are particularly popular for their tasty and generous servings, particularly on Sushiya street near JR Otaru Station. Other favourite foods in Otaru are ramen, buckwheat noodles, wine, microbrew beers and sake. There is a wide range of accommodation ranging from the Otaru Youth Hostel to the Otaru Hilton.