Sapporo City is one of Japan's younger, most pleasant and convenient cities. As the major administrative and commercial hub of Hokkaido, the city has grown to a population of 1.8 million (Japan's 5th largest). It is big enough to have everything you need without the hassles of crowding. Sapporo dominates Hokkaido's cultural life, there are interesting museums including the Ainu Museum, Hokkaido Museum of Modern Art and the outdoor Historical Village of Hokkaido. Apart from the attractions of the city itself, Sapporo is a good transit hub for exploring this part of Hokkaido by train or rental car.
Summer is the peak tourist season when Japanese tourists escape the hot humidity of the other large cities to the south. The city offers much to see and do, from taking in the history, Sapporo beer, and museums, as well as the nightlife of Susukino. Sapporo is modern and clean, has no rainy season.
During the summer festival (from around the 20th of July for one month) the Odori Park in the city center has beer gardens, bon dancing in mid-August, and also hosts the Pacific Music Festival (started by Leonard Bernstein). Summer ends quickly and from September onwards the temperatures drop rapidly and rain is common, but as the leaves change color it is also a nice time to visit. Sapporo is famous for barbecued mutton ("Genghis Khan"), steaming hot ramen noodles and of course, good beer.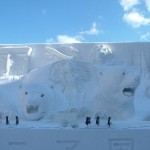 The second (smaller) tourist season is in the winter, when Odori Park is transformed each February into a massive open air snow sculpture gallery as the city hosts its annual "Sapporo Snow Festival" – an event held since 1950. Sapporo and Hokkaido also offer excellent skiing and snowboarding opportunities, with ski fields closeby including Sapporo Teine, and Sapporo Kokusai. It was the host of the 1972 Winter Olympics, Asian Winter Games and Winter Universiade. Okurayama Ski Jump and other local facilities including the excellent cross country ski trails that played a major role when Sapporo City hosted the FIS Nordic World Ski Championship. This elite competition has never been held in Asia before.
Modern development of Hokkaido did not begin until the Meiji era government embarked on colonization of the island, and the early history of Sapporo resembles that of a frontier town. There was considerable western influence at the time – Sapporo's streets are laid out an orderly grid that is rare in Japan, making it one of the easiest cities to navigate. The Meiji government employed western advisors such as William S. Clark, who are still celebrated today. Many of Sapporo's landmark buildings such as the Hoheikan, Clock Tower, the campus of Hokkaido University and the old government building date from this time.
Winter in Sapporo is cold. The snow usually starts falling in November. If travelling to Sapporo in the winter months bring very warm (preferably wind & water resistant/proof) clothing. If travelling to the snow festival, you should definitely book accommodation well in advance. Spring emerges in April as the snow melts and the wildflowers and greenery bursts. Summer is very comfortable – without the heat & humidity of the south, and crowds of tourists means that you should again book accommodation early, especially backpacker and other budget accommodation.
Things to See and Do: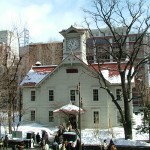 City Highlights: Botanical Gardens/Ainu Museum, Clock Tower, Hoheikan, Hokkaido Museum of Modern Art, Ishiya Chocolate Factory, Mount Moiwa, Nakajima Park, Odori Park, Okurayama Jump Hill, "Old Red Bricks", Sapporo Beer, Sapporo Snow Festival, Susukino nightlife and entertainment district.
Regional Highlights: Historical Village of Hokkaido, Jozankei Onsen (hot springs), Otaru Beer, Otaru City, Sapporo Art Park, Sapporo Dome Stadium, Sapporo Kokusai Ski Resort, Sapporo Teine Ski Resort.
Powder Snow: Skiing and Snow boarding in Hokkaido.
How to Get There:
Air: Shin Chitose Airport has direct flights with Kansai, Nagoya and Tokyo airports as well as most major cities in Japan. It is also possible to fly in directly from some overseas locations. If you are flying from Europe or North America, it may be cheaper to use Hong Kong or Seoul as a hub. There are buses (70 minutes) and trains (36 minutes) connecting the airport with Sapporo station.
Train: It is easy but expensive to go to Sapporo by train via the Seikan Tunnel. At this stage there is no shinkansen (the current Tohoku line terminates at Morioka in Iwate prefecture). There is an overnight service from Ueno (Tokyo) to Sapporo via Hakodate – 15 hours 32 minutes at 28,250 yen. Travelling from northern areas of Honshu is a little cheaper. If you have time, ferry is usually the better option.
Ferry: There are ferries from Niigata, Tsuruga and Maizuru to Otaru (30 minutes to Sapporo by train), and from most of the cities (Nagoya, Tokyo, Sendai etc) to Tomakomai and Muroran. The fare depends on which company you use, but is cheaper than the train and a relaxing way to travel.
Bus: If comfort and sleep are not a priority, Sapporo has good long-distance highway bus links with cities to the south (Nagoya, Tokyo etc).
Study in Sapporo:
It is now possible to study Japanese in Sapporo either during the Sapporo Summer Japanese Course or the Sapporo Winter Japanese Course, as well as Study Tours.