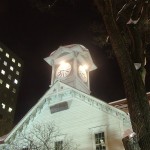 The clocktower (north 1, west 2) is considered to be the symbol of Sapporo. Built in 1878, and now protected as an important cultural property, it attracts a stream of tourists. All tours stop here, though apparently many of the tourists are disappointed to find that the clocktower is not very tall. It was the tallest building in Sapporo at the time of its construction, but these days it is dwarfed by the apartments and modern office buildings that have sprung up around it.
The tower building is of American design, and the actual clockworks are also of late 19th century American manufacture. Inside the building there is a small exhibit showing aspects of local history. It was originally constructed as a drill house for the Agricultural College – now Hokkaido University. The two red stars you see on the building, are the mark of the Hokkaido government.
If you want to join the hordes of photographers, try the building across the road. From a balcony on the second floor, you should be able to get a good picture without the constant stream of cars, trucks and buses and other such realities of life getting into your shot.