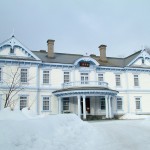 The Hoheikan is a western-style hotel constructed in 1880 that was once used to host members of the imperial family and other distinguished guests. All three emperors of the Meiji, Taisho, and Showa eras stayed at this guest house when visiting Sapporo in the pre-war period. The building was constructed by the Development Commission in the west 1-chome district of the city. In 1958, the building was relocated to Nakajima Park and declared an Important Cultural Asset of Japan in 1964. A monument was erected at the original site of the building in 1962.
The Hoheikan is regarded as a historic and prestigious building because of its combination of well-matched Japanese architectural techniques and western style decoration. The interior is said to have the atmosphere of civilization and enlightenment. Luxurious touches, such as the ultramarine pigments from lapis lazuli stone used in the window frames, also provide distinguishing characteristics to the structure.
Nowadays, important historical items such as the emperors' supplies, period chinaware and documentary records are exhibited in the building. In the rooms upstairs where the emperors stayed, the period furniture is reproduced. The hall is now also used for wedding ceremonies, receptions, concerts, and other events. In the summer months, there is usually a beer garden set up in front of the building with a nice view of the ponds. The Hoheikan and Nakajima Park are within walking distance of Susukino.
Location:
Address: 1-20, Nakajima Koen, Chuo-ku, Sapporo
Tel: 011-511-0985
Open: 9:00-17:00
Closed: Dec. 29-Jan. 3
Admission: Free
How to Get There:
Hoheikan is located in Nakajima Park. Take the Nanboku subway line from JR Sapporo Station to Nakajima-Koen station and exit west into the park.