With about 4000 businesses ranging from bars and restaurants to soaplands and brothels, Sapporo has one of the best nightlife districts in Japan, and due to the cold winter a substantial part of it is covered. It has the largest collection of seedy businesses north of places such as Kabuki-cho in Tokyo, but it is mostly just a place to have eat, drink and have fun – the fastest money spinners are definitely karaoke and noodles – the latter made famous by Ramen Yokocho, but available everywhere else as well.
There are many nightclubs and discos – the most famous being the decadent King Xmhu, but there are also many bars for drinking, ranging from somewhat traditional yakitori or izakaya style establishments to "gaijin" bars such as Rad Brothers, Jersey Bar, Locotonte and Salsita. There is even a gaijin bar called Gaijin Bar, though it is a bit of a dump. There are quiet jazz clubs and noisy live houses, somewhat odd places such as Voodoo Dance and 350 Bar, as well as interesting but pricey beer pubs like Mugishutei. Susukino is a fairly easy place to pick up a Japanese girlfriend or boyfriend, though the relationships are likely to be somewhat fleeting.
Susukino is quite safe and well lit. Apart from the usual range of karaoke and junk food outlets, there are many good restaurants & bars, as well as a large number of hotels (both the regular kind and the rent by the hour "love hotel" kind) as well as some budget accommodation. The Toyoko Inn is a fairly affordable business hotel located here, and for budget accommodation the backpackers hostel called Ino's Place is also convenient, though further away.
Sapporo Ramen Yokocho: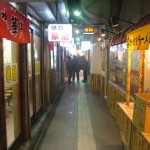 Ask almost any Japanese what they would like to eat in Sapporo and invariably one of the first answers is the ubiquitous Ramen. These bowls of noodles are of course found everywhere else in Japan, but true connoisseurs (unless they are from Asahikawa or some other town on the island) believe those from Sapporo's to be the best.
In general miso ramen in Hokkaido is always pretty good, and traditionally "the place" in Sapporo to get your Ramen fix is "Ramen Yokocho" – the ramen alley in Susukino with a couple of dozen hole-in-the-wall ramen shops feeding an amazing number of people each evening. The oldest is Rai Rai Ken – one of the first encountered on the left hand side if you enter the alleyway from the north. The owners have been running the shop for more than 40 years. They work in to shifts running the shop until 3am each morning. The miso and shio ramen is perfect, and the butter corn takes a little time to get used to.
English isn't spoken and the menu is Japanese only, so get stuck into it. One of the two owners (pictured) has a nephew working for Japan's Ministry of Foreign Affairs, who has just returned from postings in Australia and Indonesia. In between vigorous slurping we had an interesting discussion about noodle shops in Canberra.
Susukino Ice Carvings:
Susukino is one of the 3 major venues of the Sapporo Snow Festival. The sculptures in Susukino are different though in that instead of being hand sculpted from boxes of pressed snow, they are carved using chain-saws and other power tools from stacks of 130 kilogram blocks of ice in a fascinating competition between the artists, the ice, and the clock.
The ice sculpture show is held on Ekimae-dori (the main street that leads through Susukino to Sapporo Station) on the blocks between South 7 and South 4. The street is closed to vehicular traffic. Apart from the more artistic sculptures, there is also a commercial aspect with an emphasis on fun. Many of the works are sponsored, so there are for example ice sculptures that contain real seafood such as salmon, oishii kani, cuttlefish and other delights. The Baileys Ice Bar (also made of ice) is fairly popular.
The businesses of Susukino are promoting the site and there are a range of events and attractions scheduled, including the Ice Queen Girls, music, food promotions and so on, but also more traditional festival events revolving around the Shinto shrine called Sapporo Betsuin (a subsidiary shrine of the Toyokawa Inari in Aichi Prefecture).