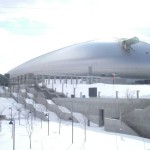 The Sapporo Dome is the premier spectator sport and entertainment facility in Hokkaido but is unique when compared to other indoor stadiums. Up to 43,000 spectators can come to the Dome to watch baseball and soccer games or concerts but tourists may be drawn to see the stadium itself and its 'hovering soccer stage'.
Unlike other indoor stadiums, or any other such all weather facilities for that matter, the Sapporo Dome actually has two completely separate playing surfaces for baseball and soccer. For baseball, a field of artificial turf is used including ascending and descending pitcher's mound and bases. However, for soccer matches, the artificial turf is rolled up and an 85 meter by 120 meter natural grass soccer pitch is slowly rolled in from outside the stadium.
The process requires some coordination as to move in the pitch, a bank of seats on one side of the stadium need to be retracted and the outdoor wall must be opened. Once inside, the pitch and the seats, including the previously retracted ones, are all rotated to create a proper configuration for watching a soccer match. The whole process takes approximately five hours.
The gigantic natural lawn soccer pitch weighs 8,300 tonnes. It slowly moves into the stadium at a speed of 4 meters per minute using 34 wheels but it also hovers 7.5 centimeters above the ground using air pressure. By storing the pitch outside, the facility is able to better maintain its natural grass.
The dome is located in Hitsujigaoka, a 40 minute drive from New Chitose Airport. Nicknamed "HIROBA", meaning an open space, the facility is covered by a fixed 227 by 245 meter shell-shaped roof, the largest in Japan. The stadium was completed in 2001 in preparation to host matches for the 2002 World Cup. Today, the Sapporo Dome is the host of Consadole Sapporo, a professional soccer team in the J League.
The Sapporo Dome offers stadium tours for 1,000 yen for adults (500 yen for children and junior high school students). They start hourly between 10:00 and 16:00 but are offered only on designated days (contact the stadium or visit its website for days available for tours). For an additional 200 yen, visitors can also go to the stadium's viewing platform.
Location:
Address: Hitsujigaoka,Toyohira-ku,Sapporo
Tel: 011-850-1020
How to Get There:
Located 7.5 km from the center of Sapporo City. It is a 10 minute walk from Fukuzumi Station on the Toho subway line.